RIVERFRONT PROPERTY
ROUTE 14, Cary, IL 60013
REDEVELOPMENT PROPERTY
30 acres with approximately 750 ft frontage on NW Hwy/Rte 14. Approx 1,000+ ft adjoining to Fox River. 30 amazing acres on Route 14/NW Hwy and the historic Fox River just waiting to be developed! Site is excellent location for development with mixed use potential. The property is adjacent to City Water and Sewer. Village of Cary has easy access to I-90/NW Tollway and is only 30 miles from O'Hare airport and 40 miles northwest of The Loop. Commuter trains are 5 minutes away at either Cary or Fox River Grove stations – Rte 14/NW Hwy and Spring Beach Rd.
Sale Price – $2,500,000
Lot – 30 acres
Frontage – 1,000 ft. on Fox River
134 Northwest Hwy, Cary, IL 60013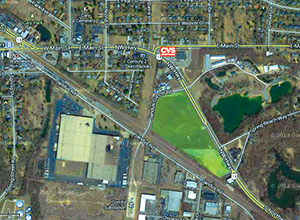 Upscale Retail Development!! 10.5 acres with 635 feet of frontage on U.S. Rte. 14/Northwest Hwy. in Cary, Illinois. Perfect for Major Anchor with Out-lot(s). Property is located in a TIF District adjacent to lighted intersection! New street lights, traffic signal modernization and pavement improvements completed in 2014. Strategically located 40 miles NW of the Loop, Cary is at the crossroads of McHenry, Cook, Lake and Kane counties. O'Hare Airport is only 30 miles away. Nearby access to Northwest Tollway/Interstate 90, local commuter rail service and good arterial roadways (est. 34,600 Cars per day) have helped Cary and neighboring villages develop into comfortable residential communities.
Property is located at lighted intersection of US Rte 14 and Jandus Road; West side just North of the Fox River. The Village of Cary is 10 miles from Interstate 90 and may be accessed via two major arterials – US Route 14/Northwest Hwy. and IL State Rte. 22.
Sale Price – $3,920,000 Million
Lot – 10.5 acres
Frontage – 635 ft. on Route 14